Inouk Demers is a sound artist, media artist and composer living in Los Angeles. His work has been shown and broadcast in Germany, France, the Netherlands, England, Scotland, Wales, Belgium, Switzerland, Italy, Hungary, Russia, New Zealand, Mexico, Canada and the United States, commissioned, funded, presented at international festivals, exhibited at galleries, and commercially recorded.
EVENTS
apr 22 2017
MESH, audiovisual installation for arts access datathon @ the REEF
oct 17 - nov 3 2016
live interactive sound @ 2nd china onscreen biennial (ucla film & television archive)
mar 12 2016
lions, tigers and... project finale @ pasadena city hall
feb 24 2016
nuoc 2030 @ James Bridges Theater, UCLA
dec 16 2015
nuoc 2030 @ American Center, Ho Chi Minh City
dec 3 2015
nuoc 2030 @ Vietnamese film festival, Ho Chi Minh City
nov 30 2015
nuoc 2030 wins gold @ 19th National Film Festival, Hanoi, Vietnam
oct 11 2015
nuoc 2030 wins best feature @ San Pedro International Film Festival
oct 10 2015
lions, tigers and... @ pasadena city hall
apr 30 2015
nuoc 2030 @ Los Angeles Asian Pacific Film Festival
apr 18 2015
nuoc 2030 @ Viet Film Fest
apr 6-11 2015
apocalyptic panorama of the chelyabinsk meteor incident @ MAK Center
mar 13,15,17 2015
nuoc 2030 @ CAAMFest (San Francisco)
nov 25 2014
nuoc 2030 @ hanoi international film fest
Work
Conveyance is a documentary art project on water policy in Los Angeles.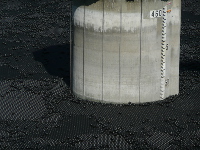 Diorama plus sound.
Plastercloth, Sculptamold, acrylics, sand, dirt, straw, diecast models, wood, LEDs, custom-designed audio software.

Sounds of wireless communications swirl over a post-apocalyptic desert landscape overtaken with cell towers.

Presented at Soundwalk 2011, Long Beach, California.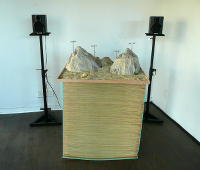 sample audio:
interview + presentation:
| | |
| --- | --- |
| Custom Audio Products | info |
Custom Audio Products consists of a collection of loops that can be made into a custom arrangement or provided as is for the user's purposes. The package also includes a license agreement, invoice and catalog. Promotional knick knacks may be sold during performances. Also, questionnaires and testimonials may be gathered at performances to measure customer satisfaction with the product; this information may be made available on a website.
The audio track is an implementation for the Bugallo Williams Piano Duo. The work uses the 'freely licensed' piano preparations found in John Cage's Three Dances for two prepared pianos. This is stated on the invoice.
Multimedia installation.
Household furniture, thrift store books, framed time zone map, framed woven landscape, framed collage, obsolete memory devices, CD (Sounds of the South Bay), laptop, interactive software.
Presented at Mt. SAC Gallery, Pomona, California.
This installation is a combination of a "fake" home interior and a reading/listening space, a set of fictionalizations of neighborhood life. In the center is a collection of donated books, outdated memory devices, curios, and a map of time zones. The books invoke questions of identity and isolation, with titles like "The Lonely Now", and "Alternate Realities". A laptop application invites people to contribute a sentence or two about their neighborhood. An end table presents two framed images: a miniature woven landscape, and a reduced aerial photo of Los Angeles County; the customary intimate family photo is replaced with the sprawling metropolis. A zine entitled Zine-o-file contains neighborhood photos and actual accounts by South Bay residents. The CD player plays a neighborhood "audio panorama" of field recordings and electronics. These diversified flows of information allow further investigation, while creating a sense of disorientation that is a frequent part of suburban life.
Zine-o-file is a neighborhood zine based on local photography, local businesses and events, and actual accounts by residents of the South Bay.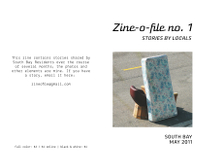 e-copy: $1
| | |
| --- | --- |
| Ville frontalière, 11 août | info |
Field recordings collected in the US/Mexico border town of Nogales.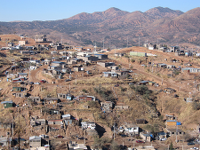 audio:
buy track: $1
| | |
| --- | --- |
| Sounds of the South Bay | info |
Field recordings, electronics.
Audio component of Privacy Settings, a multimedia installation.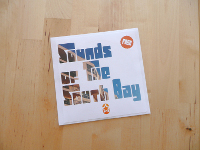 audio:
buy track: $1